Progressive Production Solutions

This is an electronic music production course.
100% online, self-paced, and affordable.
It teaches producers how to take real control of their sound.
There are certain things almost everyone has to do every time they make electronic music.
This course identifies what these processes are, and how to deal with them in the most efficient and powerful way.
After 20 years of production experience, Richie Interpulse has simplified the process of creating music with a very high quality of sound.
Progressive Production Solutions reveals invaluable tricks and shortcuts that even most of the pros don't know about.
It makes it easier to achieve top-notch sound quality, dramatically accelerating production efficiency.
This allows more time and head space for the creative side of music production, which results in more expressive, better sounding music.
Ableton and Cubase Videos Online

After huge success with the Cubase Video demonstrations, we are excited to announce that the Ableton Live Videos have been added to the course.
How to easily apply these cutting edge production techniques in Ableton!!
Introducing Interpulse Intuition Interface
Finally the awesome videos now have an awesome website and player to live in!
This new website features version 1.0 of the new Interpulse Intuition Interface
Now all the course content is handled on one page...
The interface delivers all the videos, reading material, software downloads, and help forums at the push of a few buttons.
Simply flick left or right, or use a dropdown menu to select the next tutorial to view... and keep your mind on the info :)
You can safely expect the interface to continue to be upgraded and for more cool features to be added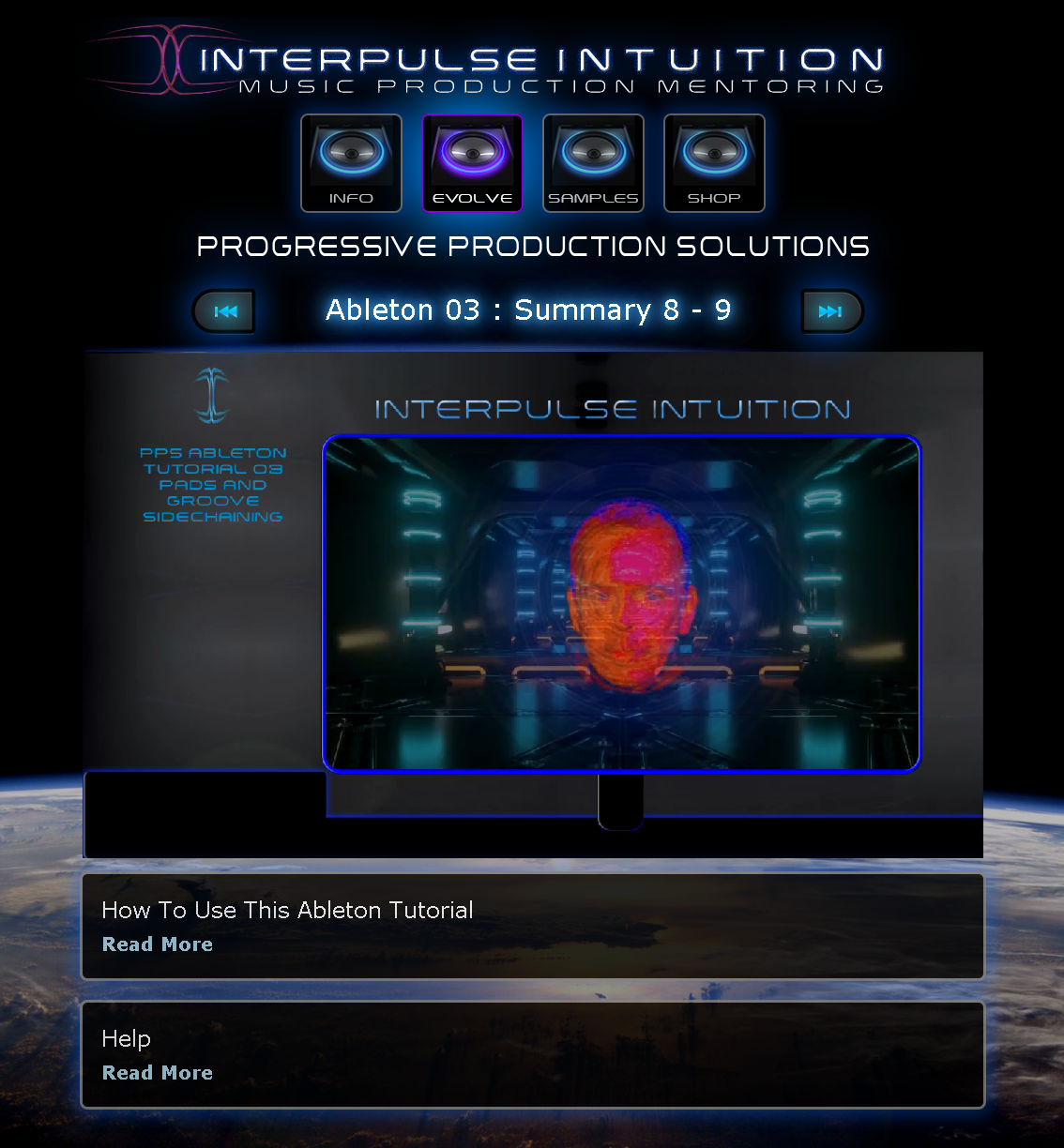 What YOU Get

Simple yet brilliant techniques which sound amazing and give you true control over your music.
Kick Drum Synthesis
To Synthesize huge kicks in seconds, with no need for EQ.
Bass Synthesis
To Synthesize awesome bass in seconds, with complete control over the tone.
Routing Techniques
Routing techniques that automatically tidy up your mix!!
Accurate Referencing
To accurately compare your mix to the best sounding tracks you can find.
Virtually eliminating the problem of wondering if your sound is right!
Mixdown Technique
A simple mixdown process which makes engineering easy.
Production Templates
To combine the lessons into a production template for starting new tracks. These templates already sound great and can save thousands of hours.
Plus more!!
The course also covers a wide range of software tools, Atmospheric Synthesis, Rhythmic Synthesis, Workspace organisation.
Please Note
The course does not cover composition, it focuses on sound quality, size and clarity of the fundamental elements of electronic music.
Want a Slick Sound?

Hi, I'm Richard Hinkson (Interpulse / Mantrix) from Melbourne, Australia :)
I'm in my 20th year of electronic music production.
I've played live to countless dancefloors, including 15 years at Australia's mind-blowing Rainbow Serpent Festival.
When I start a new track, I simply open a top quality sounding template as a starting point.
My Production Template:
Contains the essential tools, sounds and settings for a kick ass sound.
Has most of the technical stuff already done.
Already sounds AWESOME.
Is easy to control and make it sound the way I want
Where did I get this template?
I built it myself.
How?
It took me 20 years to work out these tricks.
Breakthroughs which allow me to make the music I really want to hear.

And now ...I teach people how to build this template.
It's easy to teach, and easy to learn.

Don't take 20 years like I did...
Get control of your sound now.
Let me save you some time... and show you the craft of cutting edge music production.
My online course, Progressive Production Solutions:
includes lifetime access to some of the most effective music production video tutorials I've come accross.
is also hosted in an interactive forum where you can get answers on any lessons you don't understand.
is enabling producers to make their music sound the way they want.
There are no assignments or assessments ... it's not a competition.
You can do it at your own pace.... race through it, or take your time... from your once-off membership fee, you will always be able to view the online videos.
How is the course taught?

Video Tutorials
Lifetime access to an excellent series of online video tutorials alongside supporting information.
Currently Demonstrating in CUBASE and ABLETON
FL STUDIO and LOGIC videos are still under production
The videos are only viewable online.
You may not make any copies of the videos.
You can watch the videos as many times as you like.
Online Mentoring
The course comes with one year online mentoring service for asking your questions.
After the year is up you can still view the videos and the forum
The one year period starts once the FL Studio and Logic Pro videos are finished,
so there is more than a year for those who enrol now.
What host software DAWs are covered?
Current videos demonstrate the techniques in Cubase, and Ableton.

More videos are being added, including FL Studio and Logic.
Enrolled members have access to all the videos.
If you know FL Studio or Logic, you can probably translate from the current videos instead of waiting for those videos.
There are a few software plugins that are recommended to buy, however free alternatives are provided, so you can decide later whether to buy or not
Check Out a Demo Video Here
Testimonials

Psiralife (Zenon Records), Tetrameth (Weapon Records / Zenon Records), Loosefingers/Tekxture (Solar Records / Insonitus Records), Dirtron (Kinematic Records), The Girl That Was and Rachel Orchid are just a few of the very satisfied members.
Here's what they have to say
Here's what they have to say
Tetrameth (Weapon Records / Zenon Records)
'I highly recommend this online production course to all producers wanting to advance their sound production skills & techniques."
"easy to understand & a great short cut to creating world class production."
"Even after 10 years of producing electronic music myself i got so much out of it."
"knowledge to get tracks started quickly & sounding schmick from the get-go."
"enabling you to craft your own kicks & bass sounds at a world class level."
"A must for for up-coming & even seasoned producers."
"If you're serious about making music this is a very wise investment"
"the best way to get good quickly."
"HIGHLY RECOMMENDED!'
--------------------------------------
Pspiralife (Zenon Records)
'Interpulse Intuition tutorials delivered essential tips that even as a reasonably experienced trance producer, I found to be very valuable to help the foundations of my track be much more solid."
'The messages are always focused and straight to the point.'
'I'm definitely looking forward to more tutorials.'
--------------------------------------
Alby Loosefingers / Tekxture, (Solar Records / Insonitus Records)
"Interpulse Intuition changed the way I listened, wrote, mixed and created my music."
"My whole production ethic changed while enhancing its clarity and definition."
'With easy to follow instructions, tutorials and quick friendly support.'
--------------------------------------
Dirtron (Kinematic Records)
'I noticed the quality of my production improved"
"concepts which once were left unexplained became clear."
"I found I was filling in gaps in my knowledge of production techniques"
"which had a great impact on my music quality."
"it is easy to see how the same quality sound can be achieved by even a beginner level producer using Interpulse Intuition as a starting guide."
"From beginner to expert, I think that anyone would benefit in some way from the 20 years experience that Richie has to offer.'
5 stars *****'
--------------------------------------
The Girl That Was
'it shows you the fundamentals of how to get the best out of your DAW"
"builds skills that are transferable between genres"
"delivered in an easy-to-understand format."
"Highly recommend!'
--------------------------------------
RACHEL ORCHARD
'Progressive Production Solutions absolutely gave me the basic building blocks to complete a track."
"The tutorials were really clear and easy to follow"
"the software plugins taught are excellent."
"I would highly recommend the course for anyone looking to develop their production knowledge.'
--------------------------------------
Zac (Bornvibe) Wood
"Richard (Interpulse) Hinkson's tutorials are unlike your average YouTube tutorials!"

"clear, quick and easy to understand demonstrations,"
"fantastic advanced tutorials"
"for those that are passionate about perfecting their sound or for those interested and just starting."
"Richie walks through unique techniques that are right for YOUR sound and music in this digital age."
"Richie has been a fantastic mentor for me over the years with his music as well as a healthy inspiration."
"I highly recommend these tutorials to expand your knowledge with digital sound engineering, mixing, producing and mastering."
"5 stars."
Pre-requisites

It is assumed you have a computer with a DAW and 'studio monitor speakers' to work with when making your music.
It is assumed you have some experience with music production, however the tasks include thorough explanations and online support is provided for those who don't understand the information provided.
How To Enrol / Pricing
Enrolment fee is $150 (AUD).
Will go up
Credit Card / Paypal
Bank Deposit
Email intuition@interpulse.com.au requesting bank details.
After Making Payment
We will email you with simple instructions to get you started.
For enquiries, please email intuition@interpulse.com.au